Nacho Macho Taco (Prospect Pl)
417 Prospect Pl, Brooklyn, NY 11238
Order now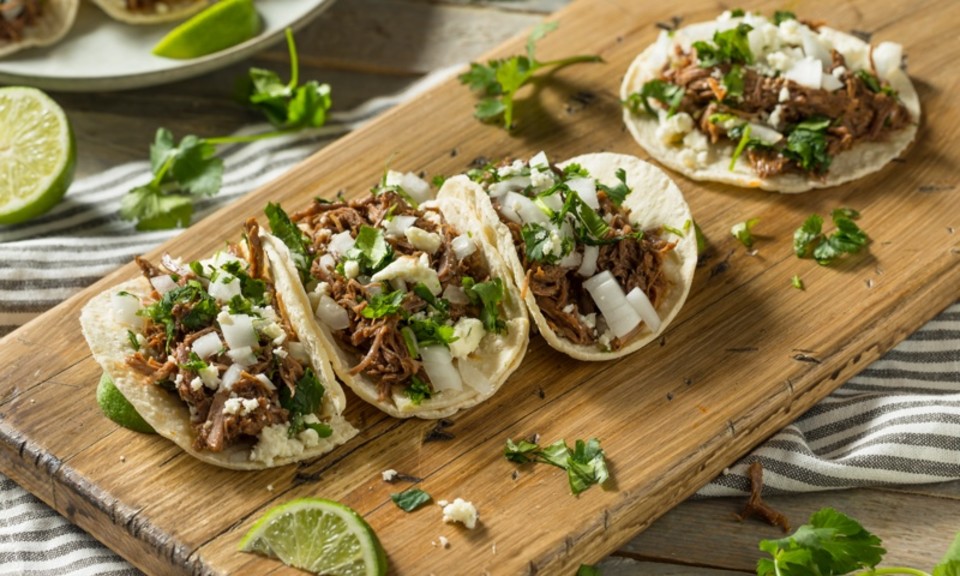 Kevin
Food is fresh and super tasty, my favorite Mexican restaurant in NY in general, not just Brooklyn. Everything is very authentic. I finally went in there the other day (I've been ordering takeout at least twice a week for the past few months) and was pleased to find that their in-person service is just as quick as their delivery, and their staff is extremely friendly and attentive. Very cozy little place with a nice feel. Try the chicken mole burrito or the fish burrito; both are great, but chicken mole is my recent favorite by far.
Rhea
First time ordering from here. Had a chicken quesadilla and buffalo wings which were awesome. The delivery was extremely quick.

Would be ordering from here again. In my personal opinion, their quesadillas are waaaaaaayyyyyyyyy better than Domo Taco!
Samantha
Food was great as usual. I tried the fish taco for the first time and hmm mmm good. This will be one of my go-to favorites. Please continue to make delicious food and keep up the good service, especially delivery.
Eli W
Down home taco joint keeps it simple and delicious. Delivery is always fast and on point. The people always seem like they care when I go in there. They've earned my continued respect and business!
Deidra
This is my absolute favorite place to order from. The food is always great, the delivery guys are nice, and if fir wany reason they think it might not get there on time they call and let you know.
Alicia
My favorite restaurant to order takeout from in the crown/prospect heights areas. Their food is really good and I love all the options. I usually order the chicken bowl but I've tried the portobello and loved it. Their ingredients are fresh and everything has so much flavor. Not to mention, these guys are quick. I live about 10 minutes away and they are usually here 20 minutes after I order. That's saying a lot bc I sometimes order from places on my block that take an hour lol. Anyways very good food. Plantains, quesadillas, everything I've ordered so far has been tasty.
Nic
I am amazed at some of the complaints i read here. There are just some dishes that were not meant for delivery but are better when eaten on the spot. Lets take tacos for example, tacos were meant to be eaten on the spot, and not meant for delivery. I think this is common knowledge, and yet some of the negative reviews prove otherwise.

Okay my experience. items i have ordered have always been packed nicely and has arrived on time. good grub overall.
Rudy
The food was delicious and to my surprise still very warm. Now for me this is a big deal because I love my food HOT! So if it was to my liking the vast majority of people will eat it with no problem. The food came faster than the expected delivery time as well. I was shocked! NMT is the best mexican restaurant this side of Crown Heights. Trust me I'm not blowing smoke, I don't even like Mexican.
Eva
I don't normally leave reviews, I'm more of a silent participant. But after ordering delivery 4 times I can't help but to rave publicly about these tacos. The fish taco and chorizo are the best, but honestly you can't go wrong. Always super fast, well seasoned and minimally soggy (for the saucy options). You can't go wrong!
Brandon
This place is consistently awesome, with delicious food and fast, reliable delivery. Best tacos I've had on Seamless, ever (especially the fish). The mole enchiladas are great. Anything with the Chicken Tinga is awesome. The burritos are lack luster (kinda heavy on the rice), but everything else is excellent.
About us
Alcohol, Dinner, Lunch Specials, Mexican
Today

Delivery: 11:00 AM - 10:45 PM

Takeout: 11:00 AM - 10:45 PM

Delivery

Monday:

11:00 AM - 8:45 PM

Tuesday:

11:00 AM - 8:45 PM

Wednesday:

11:00 AM - 9:45 PM

Thursday:

11:00 AM - 9:45 PM

Friday:

11:00 AM - 10:45 PM

Saturday:

11:00 AM - 10:45 PM

Sunday:

11:00 AM - 8:45 PM

Takeout

Monday:

11:00 AM - 8:45 PM

Tuesday:

11:00 AM - 8:45 PM

Wednesday:

11:00 AM - 9:45 PM

Thursday:

11:00 AM - 9:45 PM

Friday:

11:00 AM - 10:45 PM

Saturday:

11:00 AM - 10:45 PM

Sunday:

11:00 AM - 8:45 PM